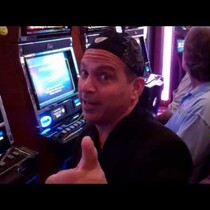 Posted January 21st, 2013 @ 3:22pm
What's Up Real Radio!!!
Earlier today, The Penthouse's own "Greek" joined our old friend "Luke" from Paul & Young Ron Mornings in support of The Seminole Casino Coconut Creek's first ever go at "Florida's Largest Slot Machine Tournament", and we caught some of the highlights on film!!! Question is... will Greek Go Big, or Go Home empty handed. Check out the video below.
-Drew Dog-
More from Real Radio 94.3