The Greek Throws Out the First Pitch for MARLINS vs. METS game...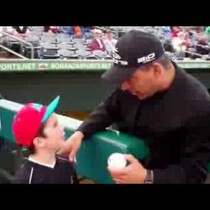 Posted March 16th, 2014 @ 9:51am
On Friday (March 14th, 2014), Greek threw out the first pitch for Spring Training's only night game, as the MIAMI MARLINS took on the NEW YORK METS at Roger Dean Stadium, and Real Radio was there to catch it all in action!
But did he REALLY throw a bouncer, or is it just a bit outside? You decide. Plus, check out some of the pictures Greek got with some of the Miami Marlins players before the game got under-way!
Check Out The Photo's & Video Below:
(Video: courtesy of Andrew, WZZR). (Music: courtesy of "E-Z Bake Oven". Copyright 2004, Biscuit Boy Group Entertainment, Inc.)
More from Real Radio 94.3